Edinburgh Airport Car Rental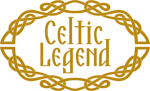 Pick Up and Drop Off Procedures
Address
Arnold Clark Car & Van Rental
Eastfield Road
Edinburgh
EH28 8LS
Tel No: 0131 333 0124
Branch Opening Hours
1st October 2023 to 29th Feb 2024
Mon – Fri: 07:30 – 18:00
Sat & Sun: 07:30 – 17:00
1st March 2024 to 30th Sept 2024
Mon – Fri: 07:30 – 20:00
Sat & Sun: 07:30 – 18:00
Opening hours may be subject to change on bank holidays.
Please note – The branch is NOT in the Airport Car Rental Village
During Branch Opening Hours
When you arrive at Edinburgh Airport, collect your bags and proceed to the UK Domestic Arrivals area.
Once there, please call Arnold Clark on 0131 333 0347 from your own phone, give the operator your name and a representative will come and collect you (this number should only be used for Airport collections).
Alternatively, you can use the courtesy phone located in the terminal by dialing 1312. See plan opposite for location of the courtesy phone which is between Luggage Point and the Currency Exchange.
To find the pick up point from the terminal exit, walk along the glass covered walkway and use the pedestrian crossing to reach the bus stances opposite the tram terminal.
The Arnold Clark shuttle bus collection point is at Coach Stance 1 in the coach car park.
Your transfer to the rental branch will take about 3 minutes.
During office opening hours, rental vehicles must be returned to the branch at Eastfield Road, Edinburgh Airport.
When you arrive at the branch, your vehicle will be checked in before you transfer to the Airport Terminal in the free shuttle bus.
Please allow at least 20 minutes for your vehicle check in and transfer to the Terminal.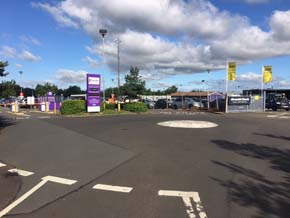 Outside Branch Opening Hours
With advance notice an Airport out of hours vehicle delivery service can be provided.   Please note – an out of hours pick up must be paid for in advance.
Please email us to arrange this at Celtic Legend
If you organise an out of hours vehicle pick up you will be met by a member of staff in the Airport Terminal and taken to your car.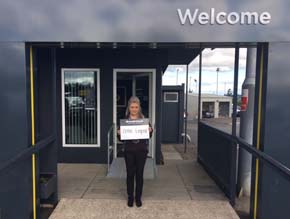 With prior notice an airport out-of-hours vehicle drop-off can be arranged however there is a charge for this service.  An out of hours drop off must be paid for in advance.
Please email us to arrange this at Celtic Legend
If you are departing outside branch opening hours your rental vehicle must be returned to the PremiAir Car Park which is next door to the Arnold Clark car rental office.  Rental car keys MUST be left with a member of staff at the PremiAir Car Park Reception.
The PremiAir Car Park will provide a courtesy bus to the Airport Terminal – you will be transferred to the Airport immediately.  The journey will take about 3 minutes.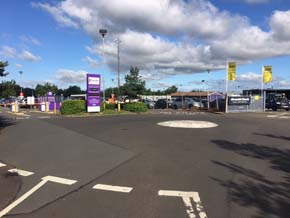 UK Drivers
UK drivers should bring their valid driving licence (original copies only) and one proof of address. Acceptable documents include utility bills and bank or credit card statements issued within the last three months.
All UK drivers should also bring their access code from the DVLA, which you can acquire from the DVLA's online Share Driving Licence system.
UK Customers with an original paper licence will also need to bring photographic ID, as well as one proof of address and their DVLA access code.
Northern Ireland licence holders will not be able to generate a DVLA code and must produce both the paper and card parts of their driving licence upon collection.
EU Residents in the UK
EU licence holders who are residents in the UK must bring with them a domestic licence, passport or ID card and proof of UK address. This can be two bills or one bill and another form of photographic identification, preferably a passport. Utility bills and bank or credit card statements that have been issued in the last three months will also be accepted.
EU and International Drivers
EU licence holders not residing in the UK must bring a domestic driving licence and either a passport or ID card.
Drivers from outside the EU must possess a valid domestic driving licence with an English translation. If the English translation is not available, an international driving permit is required in addition to a domestic driving licence.
A passport must also accompany a domestic driving licence.