Glasgow Airport Car Rental
Pick Up and Drop Off Procedures
Please note – The branch is NOT in the Airport Car Rental Centre
During Branch Opening Hours
On arrival at Glasgow International Airport, collect your luggage and proceed to the courtesy phone situated between the UK Arrivals Baggage Reclaim area and W H Smith's shop.
Dial #6138 for Arnold Clark Car & Van Rental or, if using your own phone,  call 00 44 141 847 8603. Once your call has been connected please provide the rental operator with your name.
Now proceed to the front of the terminal building and once outside the terminal, turn right and follow the covered walkway. Keep to the right and stand between bus stop B5-B8. The shuttle bus will collect you here.
Your transfer to the rental branch will take about 10-15 minutes.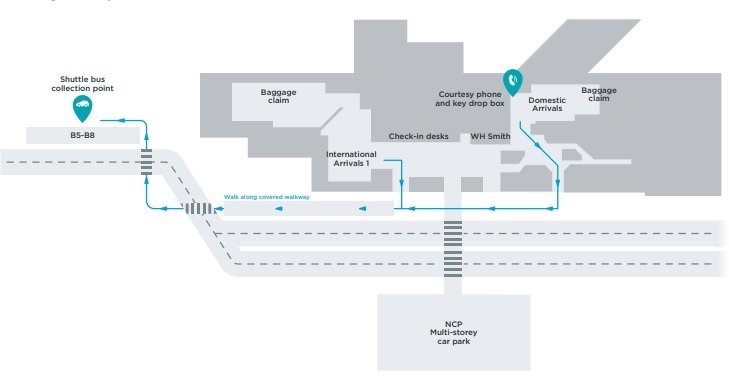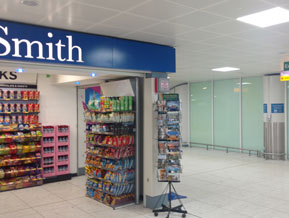 W H Smith – turn left for courtesy telephone
Corridor leading to courtesy telephone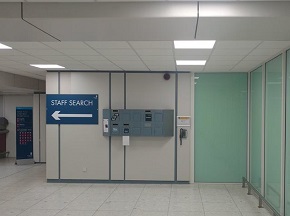 Courtesy Telephone on wall
Covered walkway leading to Bus Stance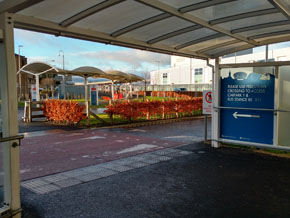 End Of Walkway Turn Right to Bus Pick Up
During office hours, rental vehicles must be returned to the rental branch on Murray Street, Paisley.
When you arrive at the branch, your vehicle will be checked in before you transfer to the Airport Terminal in the free shuttle bus.
Please allow 20-30 minutes for your vehicle check in and transfer to the Terminal.
Outside Branch Opening Hours
With prior notice an airport out-of-hours vehicle drop-off can be arranged however there is a charge for this service.  An out of hours drop off must be paid for in advance.
Please email us to arrange this at Celtic Legend.
If you are departing outside of office hours your rental vehicle should be returned to Glasgow Airport.
Please park your rental vehicle in NCP car park 2 on the first level or above. The ground level is a short stay parking area and any vehicles left there will be charged at the full cost of parking (£5 per hour).
Do not park the vehicle in the fast track level in car park 2.
Please ensure you have removed all your belongings from the rental vehicle before locking it securely.
Make a note of the level and row number of where the vehicle is located.
Proceed to the courtesy phone situated beside WH Smith and the UK Arrivals Baggage Reclaim area. Dial #6138 for Arnold Clark Car & Van Rental. Once connected leave a message on our answering machine clearly stating which level and row of NCP car park 2 the vehicle has been left in.
Drop the vehicle keys in the box marked Arnold Clark Car & Van Rental next to the courtesy phone
UK Drivers
UK drivers should bring their valid driving licence (original copies only) and one proof of address. Acceptable documents include utility bills and bank or credit card statements issued within the last three months.
All UK drivers should also bring their access code from the DVLA, which you can acquire from the DVLA's online Share Driving Licence system.
UK Customers with an original paper licence will also need to bring photographic ID, as well as one proof of address and their DVLA access code.
Northern Ireland licence holders will not be able to generate a DVLA code and must produce both the paper and card parts of their driving licence upon collection.
EU Residents in the UK
EU licence holders who are residents in the UK must bring with them a domestic licence, passport or ID card and proof of UK address. This can be two bills or one bill and another form of photographic identification, preferably a passport. Utility bills and bank or credit card statements that have been issued in the last three months will also be accepted.
EU and International Drivers
EU licence holders not residing in the UK must bring a domestic driving licence and either a passport or ID card.
Drivers from outside the EU must possess a valid domestic driving licence with an English translation. If the English translation is not available, an international driving permit is required in addition to a domestic driving licence.
A passport must also accompany a domestic driving licence.