Inverness Airport Car Rental
Pick Up and Drop Off Procedures
Please note – The branch is NOT located at the Airport
During Branch Opening Hours
Arrivals
On arrival at Inverness Airport, please proceed to the Arrivals Lounge to collect your baggage.
Once you have collected your baggage, exit the terminal and walk through the pathway then turn right to follow the walkway which will lead you to the Shuttle Bus shelter. See photographs below.
The Shuttle Bus will pick you up and transfer you to the branch to collect your rental vehicle.
Please note: the Inverness Airport branch is nine miles from the terminal building, keep this in mind when arriving at the airport.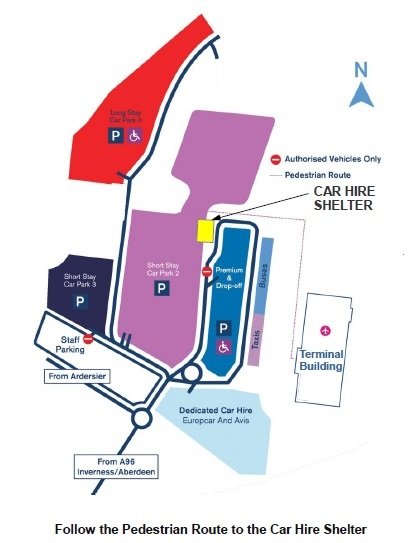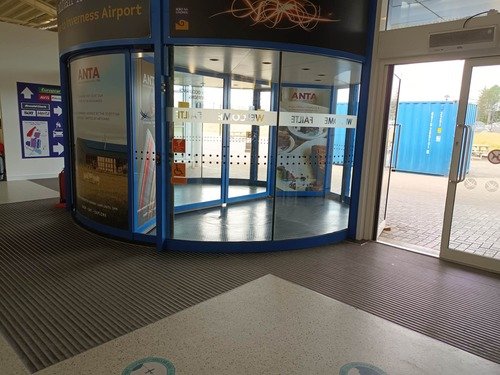 Collect your luggage and exit the terminal.
Walk through the pathway and turn right.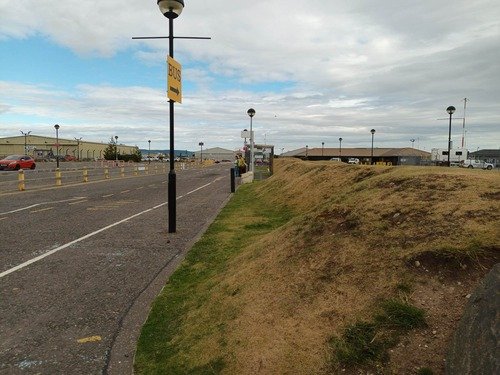 Walk along the pathway to the shuttle bus shelter.
During branch opening hours, rental vehicles should be returned to the branch on Harbour Road, Inverness.
Upon return to the branch your vehicle will be checked in prior to your transfer to Inverness Airport in the shuttle bus.
Please allow at least 45 minutes for your vehicle check-in and airport transfer.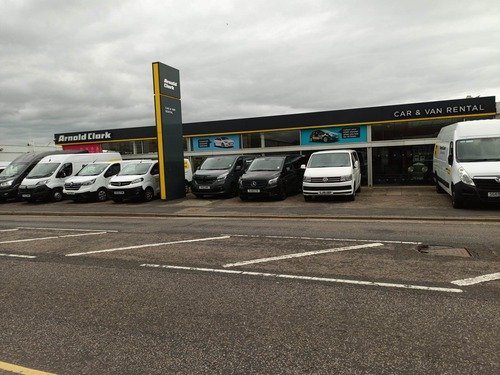 Outside Branch Opening Hours
Arrivals
With prior notice an airport out-of-hours vehicle delivery service can be provided.
Please contact us at [email protected] to arrange this.  The cost of this service varies depending on the day and time.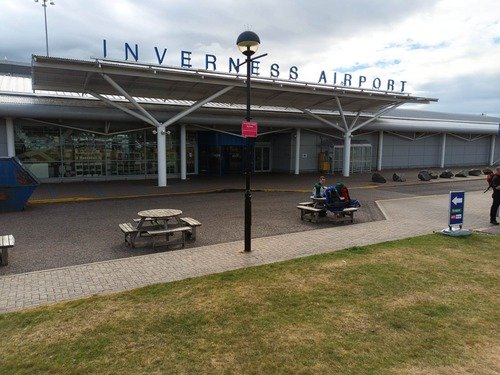 Departures
With prior notice an airport out-of-hours vehicle drop-off can be arranged however there is a charge for this service.  An out of hours drop off must be paid for in advance.
Please contact us at [email protected] to arrange this.
Please park your rental vehicle in one of the short stay car parks at Inverness Airport.
Leave car park ticket issued in the vehicle glove compartment or sun visor out of sight.
Please ensure you have removed all your belongings from the rental vehicle before locking it securely.
Proceed to the Information Desk inside the terminal building – immediately through the automatic doors by the public phone on the left hand side.
Please drop the vehicle keys in the key drop-off box, clearly marked with the location of where the vehicle is parked.
UK Drivers
UK drivers should bring their valid driving licence (original copies only) and one proof of address. Acceptable documents include utility bills and bank or credit card statements issued within the last three months.
All UK drivers should also bring their access code from the DVLA, which you can acquire from the DVLA's online Share Driving Licence system.
UK Customers with an original paper licence will also need to bring photographic ID, as well as one proof of address and their DVLA access code.
Northern Ireland licence holders will not be able to generate a DVLA code and must produce both the paper and card parts of their driving licence upon collection.
EU Residents in the UK
EU licence holders who are residents in the UK must bring with them a domestic licence, passport or ID card and proof of UK address. This can be two bills or one bill and another form of photographic identification, preferably a passport. Utility bills and bank or credit card statements that have been issued in the last three months will also be accepted.
EU and International Drivers
EU licence holders not residing in the UK must bring a domestic driving licence and either a passport or ID card.
Drivers from outside the EU must possess a valid domestic driving licence with an English translation. If the English translation is not available, an international driving permit is required in addition to a domestic driving licence.
A passport must also accompany a domestic driving licence.